Filmed live during the 2021 SEMA Show
The OEM Collision Repair Technology Summit is designed to put our audiance in a room with innovators in automotive structural design and technology.
The event content highlights developments in modern vehicles, with a focus on emerging trends that influence vehicle repairability and collision industry preparation. 
The 2021 program features representatives from American Honda Motor Co., Cambridge Mobile Telematics, Ducker, General Motors, Lucid Motors, Rivian, and Subaru of America as they explore the evolving landscape of EV, telematics and ADAS & safety.
Every participant in this industry can benefit from better insight into how vehicles, materials and technologies are evolving, and what that means in the repair process.
The FULL SERIES DIGITAL PASS is your BEST VALUE
The RDE Full Series Digital Pass unlocks access to ALL 20+ Repairer Driven Education sessions from the 2021 SEMA Show, PLUS the 3 OEM Collision Repair Technology Summit sessions. More than 25 hours of education for less than $250!
Available in days

days after you enroll

2021 OEM Collision Repair Technology Summit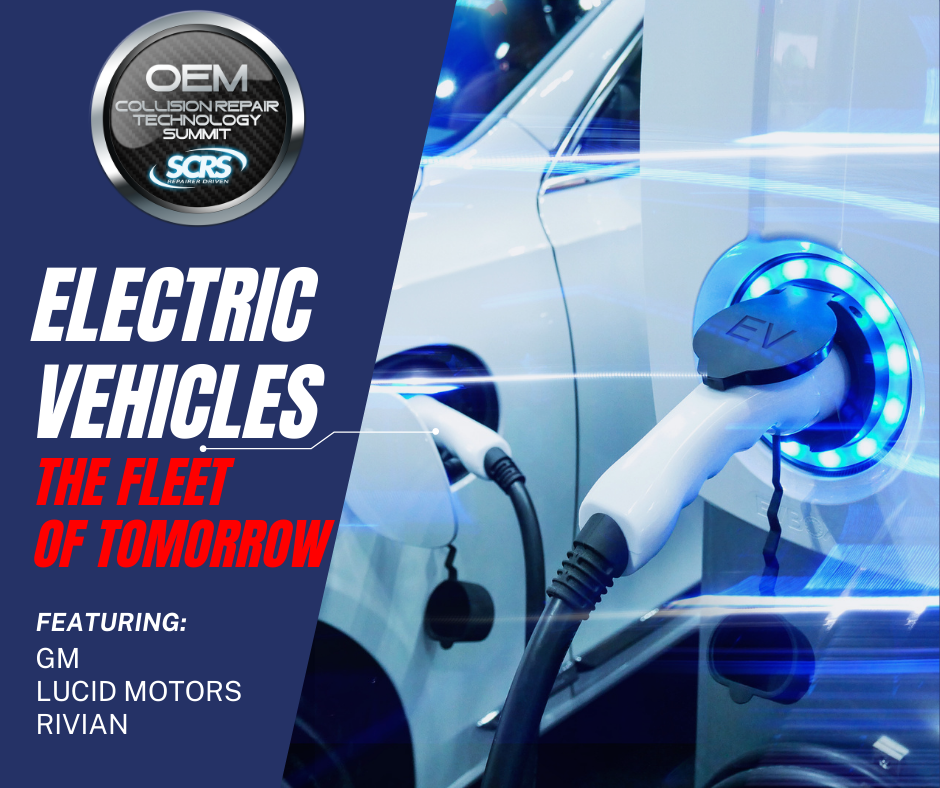 OEM SUMMIT: EV
The session will explore the unique vehicle platforms each of the participating manufacturers have developed, and how their EV offering differs from other more traditional vehicles. From construction to repairs characteristics and means in which the collision repair industry will need to adapt, panelists will thoroughly explore considerations and opportunities afforded to the industry by EV.
Sales of alternative power vehicles, while currently representing just 5% of all U.S. light vehicle sales today, are expected to reach 45% by 2035, according to new SEMA market research. The inevitable growth of this market makes the perfect fit for a Summit that has always had an eye on the developing landscape of modern vehicles, with a focus on emerging trends that influence vehicle repairability and collision industry preparation.
Panel moderators will include Ron Reichen, Precision Body & Paint (OR) and Kye Yeung, European Motor Car Works (CA), both of whom own repair facilities with experience in operating within certified collision repair networks that include electric vehicles. They will guide a panel featuring:
Jennifer Goforth General Motors, Director - Global Aftersales Mechanical Engineering
John Eck General Motors, Collision Manager - Customer Care & Aftersales
Andy MacDonald Lucid Motors, Global Body Repair Program Senior Manager
Andy Hall Lucid Motors, Head of Vehicle Safety
Kelly Logan Rivian, Senior Manager, Collision Repair Program
Dan Black Rivian, Manager, Service Engineering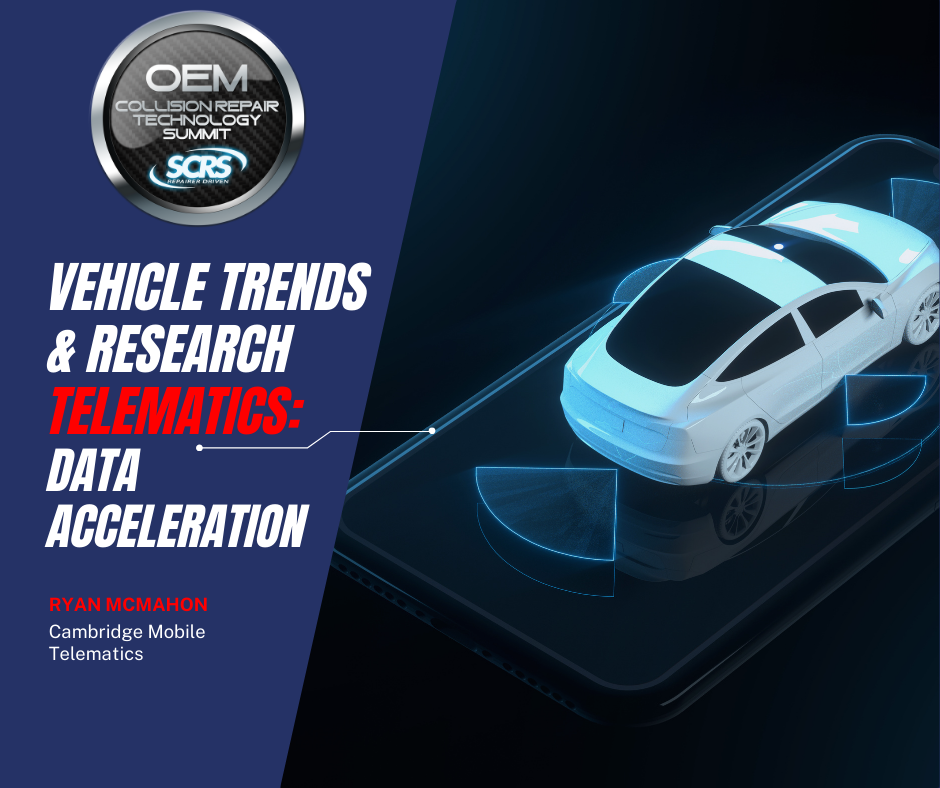 OEM SUMMIT: TELEMATICS
Ryan McMahon, Vice President of Insurance and Government Affairs at Cambridge Mobile Telematics, will provide insights into the driver behavior and loss analysis telematics provides. McMahon will review the many use cases different industries have to leverage telematics data collected from connected vehicles, smartphones, and IoT devices.
For example, telematics provides visibility into crash severity by identifying the vehicle's change in velocity. This information can benefit collision repair facilities in many ways, such as resolving repair disputes, and automatically identifying a total loss — even before ever leaving the scene of the accident.
Mobile telematics didn't exist a decade ago. It has seen explosive growth across many industries over the past few years. Analysts forecast it will be a $125 billion industry by 2026. The data is evolving, and industry segments can better study and leverage the predictive power of speed, braking, cornering, and other driving behaviors both on their own and in the context of other factors. Consumers, regulators, and government officials also continue to adjust their views on privacy.
In this session, McMahon will outline the moving scope of insight gleaned from telematics – the trends, the habits, the research, and the use cases – and give the collision industry a look into what is being utilized today and at what the future might hold.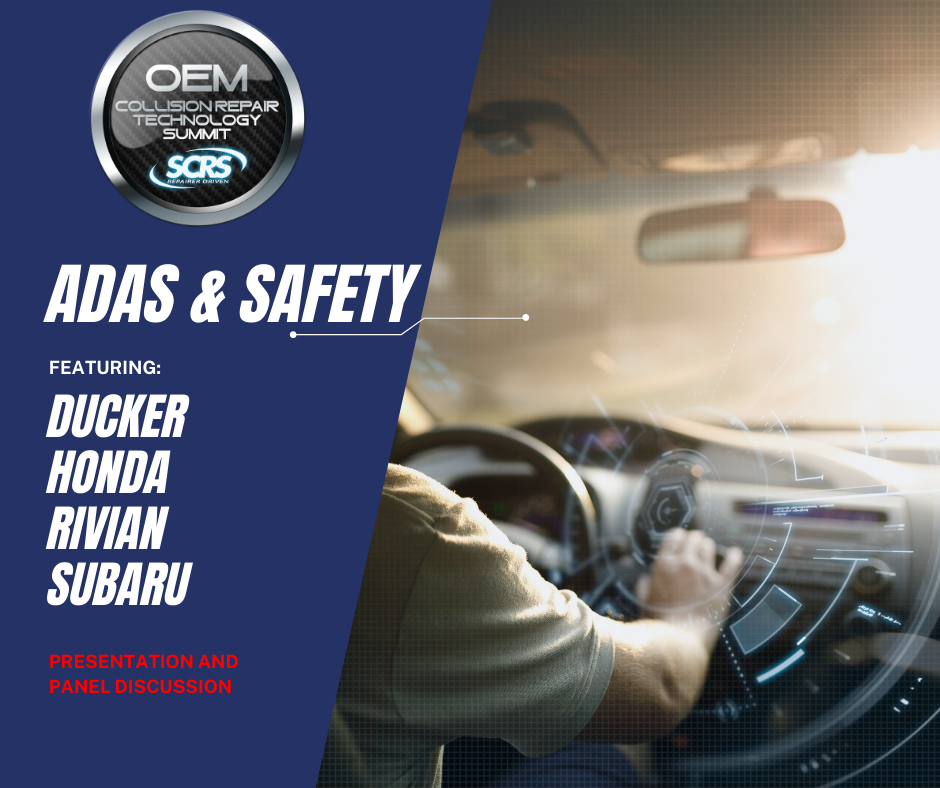 OEM SUMMIT: ADAS & SAFETY
Passenger safety and advancements in automotive technology that provide increased safety assurances to vehicle owners and occupants continues to garner increased attention in both the collision repair space as well as the broader automotive sector. From safety provisions being assessed and passed at a governmental level to increased integration of crash avoidance features and safety tech, the development of safety and ADAS in vehicle design is only accelerating in pace. Understanding the big picture of what that means for the industry is as important as understanding the vehicle-specific integrations of the technology, especially for collision repairers. These technologies are effective, but do not eliminate the crashes and damage they are designed to prevent, and the safety benefits of crash avoidance technologies can only continue to be realized when they are restored after a collision.
The session will start with a presentation from Abey Abraham, Managing Director of Automotive and Materials at Ducker and Scott Ulnick, Managing Principal at Ducker. Scott and Abey will provide the audience with a market-based overview on the nuances of ADAS, and a practical view on key existing technology and developments we can expect in vehicles (e.g., "What does sensor fusion even mean?!") Not all ADAS are created equal, and operations are far from what the marketing labels imply as capabilities. Suppliers are critical and their roles evolve, especially as OEMs aim to further enhance their unique value proposition for their customers. Their presentation will transition to a panel of automakers, who will then discuss their vehicle platforms, the technology that exists today and the unique considerations the collision repair industry should know.
Join the following contributors:
Scott Ulnick Ducker, Managing Principal
Abey Abraham Ducker, Managing Director of Automotive and Materials
Ted Hicks Subaru of America, Regional Technical Training Manager
Scott Kaboos American Honda Motor Co., National Assistant Manager of Collision Repair Training and Technology
Frank Phillips Rivian, Manager, Collision Repair Program
Taylor Jozwiak Rivian, Collision R&D Workshop Manager
Digital release of this program made possible with support from:
Check your inbox to confirm your subscription